Georgia Grey's Nutrition Business Bootcamp
Everything You Need to Know to Grow Your Nutrition Practice
Meet Your Instructor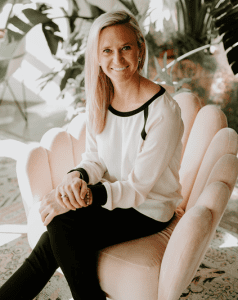 Georgia Grey
After dealing with debilitating acid reflux, migraines, and joint issues in college, Georgia finally discovered that Celiac Disease was the root cause of her seemingly disconnected health issues. She then became fascinated with food – questioning ingredients she could not pronounce, watching every nutrition documentary, reading books, and falling in love with cooking.
She spent all her time after work, teaching first grade, studying nutrition. Georgia became a Certified Holistic Health Coach (INHC) through the Institute of Integrative Nutrition (IIN), learning over 100 different dietary theories and nutrition perspectives.
Shortly after graduation from IIN, strange symptoms appeared. She herself with a large swollen pinky joint, brain fog, memory issues, body aches, phantom joint pain, and extreme fatigue. While gluten-free and seemingly "healthy," she still felt terrible most days. Georgia discovered she was sick with Lyme Disease, and other autoimmune disorders.
Although the process was difficult, she finally learned the importance of slowing down, following her intuition, and getting in tune with truly nourishing foods. Georgia's health has been a journey of whole-body healing. Wholistic health and wellness look at the psyche, body, and soul, not just grams of protein and carbs.
Course Description
Have you graduated from nutrition or natural healthcare training school and have no clue where to start when it comes to building a business? Or perhaps you've been working on your business for years or months and it doesn't seem to be working? Let's build the holistic nutrition business you desire. Introducing Nutrition Business Bootcamp, a self-study course for holistic nutritionists, natural health professionals (e.g. DC, LAc, ND, ND, MD) who have a nutrition component of their clinical practice, and health coaches. Whether you're still in school or an established practitioner, this program will help you grow your nutrition practice.
Join Georgia P. Grey, Director of Whole Body Healing Nutrition, a Denver-based holistic nutrition practice specializing in Lyme and autoimmune nutrition. Since 2017, she's coached private clients, built online courses, grown her social media, and hosted virtual and in-person events. Georgia has been able to create a booming business that nourishes both her and her clients. Now is the time for you to do the same in your own practice!
What's Inside:
– Five classes with instruction, assignments, and specific templates to use for your nutrition business.
– An online community of others in the space to share ideas throughout the course.
– Learn how to find the right clients and close your sales calls with grace.
– Get out of your own way and develop the mindset of a savvy, successful business owner.
Course Outline:
CLASS ONE
You'll get clear on your mindset, the business you desire, and the people who can connect you to your ideal clients.
CLASS TWO
You'll learn what systems you need in place for taxes, insurance, and more, plus more mindset work.
CLASS THREE
You'll learn all things website, social media, marketing, organizing your clients, and yes, of course, mindset.
CLASS FOUR
You'll work through the scary stuff…SALES and MONEY! Oh, and more mindset work.
CLASS FIVE
You'll create your ideal programs, learn what makes a powerful session with a client, and then I'll send you on your way to do the amazing work you are destined to do.
Course Curriculum
Essentials
What is the Nutrition Business Bootcamp?
Your Instructor: Georgia Gray
Questions? Need help?
Session One
Recordings (50:36)
Session One Homework
Referral Networking Template
Referral Letter & Email Templates
Session Two
Recordings & Slides (52:29)
Session Two Homework
Sample Patient Care Contract
Business Checklist
Session Three
Recordings & Slides (52:45)
Session Three Homework
Leads Tracking Sheet
Session Four
Recordings & Slides (45:59)
Session Four Homework
Session Four Handouts & Worksheets
Session Five
Recordings & Slides (51:39)
Session Five Handouts, Office Forms & Worksheets
Post-Course Survey
Further Resources and Learning
Frequently Asked Questions
When does the course start and finish?
You'll have ongoing, permanent access to the course material – no end date! After enrolling, you have unlimited access to this course for as long as you like.