Resources for Listeners of the Robert Scott Bell Show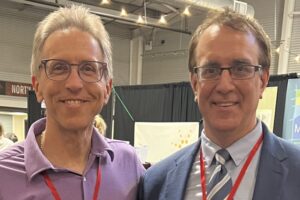 Click here to hear Robert Scott Bell on Dr Gaeta's Monday Webshow on natural health and health freedom, Mondays with Michael, Sept 25, 2023. Every Monday at 1pm Eastern Time.
Thank you for listening to Robert Scott Bell's conversation with Dr Michael Gaeta. Below you will find research, resources, natural products referenced in the show, and more.
One of the topics that came up was how to best support cancer patients.
Here is the multi-faculty online course with monthly classes that I mentioned:
One of the questions was about selenium. Click here for the food-based selenium formula I use in practice. Search for Selenium (Innate Response)
I also pointed out the usefulness of Echinacea Root for helping support the immune system during chemotherapy and in general.
Protocols from My Clinic
The Echinacea Root product I mentioned, which I take myself preventatively, and use with patients: click here
This is my favorite herb for daily immune support and prevention, and as an adaptogen for healthy aging. May also help reduce anxiety and weight/fat gain. Ideal dose is 3 per day. Minimum effective dose is 1 twice per day.
Dose I often recommend:
Daily Prevention: 2-3 tablet per day.
Acute Support: 2 tablets, 3-5 times per day
I always combine specific nutritional immune support with this herb, so that the herb works better and faster: click here
Dose I often recommend:
Ideal dose: 1 pack, twice per day, daily
Minimum dose: 1 pack per day
When sick, 1 pack, 4 times per day
Free Resources
Mondays with Michael - weekly podcast on natural health & health freedom: Mondays 6pm GMT. In the USA & Canada: 10am Pacific / 11am Mountain / 12pm Central / 1pm Eastern).  https://michaelgaeta.com/mwm
The Awake Page - Covid Education & Activism: https://michaelgaeta.com/awake
Vaccines and Choice - free online course: click here 
Zinc and Cancer - An Important New Video and Study:  click here
Discovery Call - if you are interested in becoming a patient, or if you are a health professional considering our certification program in natural functional medicine: click here
Let's Work Together
Main site: michaelgaeta.com
Clinical Practice: in-person (Boulder) or virtual (phone or video) appointments: Go to Clinic at the top, then Patients.
33-year family practice of Dr Gaeta - In Boulder, and by video or phone
Natural & Effective Support for those with chronic illness; disease prevention; healthy aging; pediatrics to geriatrics.
Specifics: lab test review, diet & lifestyle counseling, nutritional supplementation, herbal medicine, acupuncture, Asian bodywork therapy, low-level light therapy, PEMF physical vascular therapy
School: Online & Live Programs in Wholistic Health, Natural Functional Medicine & Health Freedom. Click Courses at the top.
Free discovery call - as a potential patient or student: click here
Interactive Online Courses 
Ongoing interactive online courses in wholistic health, with live monthly classes for Q&A and new research:
Certification Program for health professionals, in Natural Functional Medicine
PEMF (Pulsed Electromagnetic Field) Physical Vascular Therapy home care / clinic medical device: click here for to receive updates, info and upcoming classes. Click here to receive an email course on the therapeutic uses of this device.
Dr Gaeta's Other Resources & Recommendations: click here
Questions, Requests, Media, Speaking Invitations
Email Andrea: [email protected]
Or call +1 303-442-2525 (USA)
We are in Boulder, Colorado. Come visit our beautiful city and come in for a Chinese & functional medicine evaluation, and an acupuncture, bodywork, light therapy and PEMF treatment!